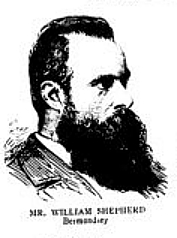 William Shepherd
(c.1838 - 20 April 1919) was a builder and local politician in the
Bermondsey
area.
Shepherd established his business at 38 Tower Bridge Road and at one time was president of the London Master Builders Association.
He became involved in the civic affairs of his native parish as a vestryman and poor law guardian: he held the post of chairman of both the Bermondsey Vestry and Board of Guardians for an extended period.
From 1881, until its abolition in 1889, he was Bermondsey's representative on the Metropolitan Board of Works.
He died at his home in Clapham Park in 1919, aged 81. A ward in the Middlesex Hospital, funded by a bequest in his will, was named in his memory.
References
Edit
Ad blocker interference detected!
Wikia is a free-to-use site that makes money from advertising. We have a modified experience for viewers using ad blockers

Wikia is not accessible if you've made further modifications. Remove the custom ad blocker rule(s) and the page will load as expected.