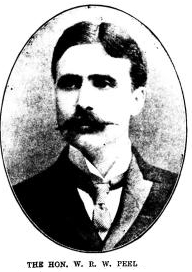 William Robert Wellesley Peel, 1st Earl Peel
,
Born 7 January 1867, died 28 September 1937.
Barrister. 1900 member of the Royal Commission into the operation of the Port of London. 1900 elected to London County Council for what became the Municipal Reform Party which he led 1908-10. Chairman LCC 1914 – 1916. MP on two occasions, inheriting the viscountcy 1912.
Various offices in Parliament, including Chancellor of the Duchy of Lancaster, Minister for Transport, Secretary of State for India, leaving government 1931. 1932 Chairman LCC of the Wheat Commission, and the Peel Commission on Palestine.
Articles in Wikipedia [1], Dictionary of National Biography
Ad blocker interference detected!
Wikia is a free-to-use site that makes money from advertising. We have a modified experience for viewers using ad blockers

Wikia is not accessible if you've made further modifications. Remove the custom ad blocker rule(s) and the page will load as expected.