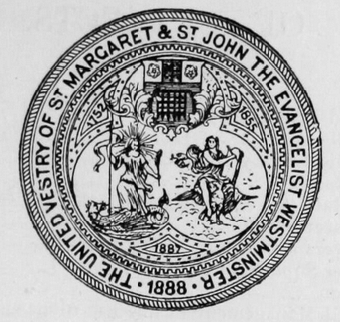 From the Wikipedia page
[1]
Westminster St Margaret and St John were two parishes, which shared a joint vestry, in the City and Liberty of Westminster and the metropolitan area of London.
St Margaret was the original ancient parish and in 1727 it was split to create a new parish of St John the Evangelist for civil and ecclesiastical purposes. Despite the split, the two parishes continued to be governed by a single vestry and were commonly known as Westminster St Margaret and St John.
The main section of the combined territory fronted the River Thames, with the parish of St Margaret to the north and St John to the south. St Margaret also consisted of a detached portion to the west of the main territory. The Close of the Collegiate Church of St Peter formed an extra-parochial enclave between the two parishes, containing Westminster Abbey.
The two parishes were grouped into the Westminster District in 1855 when they came within the area of responsibility of the Metropolitan Board of Works. The local authority was renamed as the St Margaret and St John Combined Vestry in 1887.
In 1889 the parish became part of the County of London and in 1900 it became part of the Metropolitan Borough of Westminster. It was abolished as a civil parish in 1922.
Ad blocker interference detected!
Wikia is a free-to-use site that makes money from advertising. We have a modified experience for viewers using ad blockers

Wikia is not accessible if you've made further modifications. Remove the custom ad blocker rule(s) and the page will load as expected.