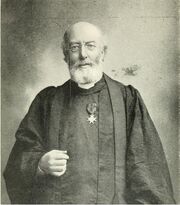 Reverend
Thomas Bowman Stephenson
(22 December 1829 - 6 July 1912) was a Methodist minister.
Born in Newcastle upon Tyne, he spent his childhood in various locations in England as his father, a Methodist minister, took up different appointments. He studied at Wesley College, Sheffield before training for the ministry at the Wesleyan College in Richmond (now Richmond, The American International University in London).
After ministering in various places in northern England, he took charge of a chapel in Lambeth in 1869, later moving to Bethnal Green in 1871. In 1869 he founded what is now the National Children's Home. In 1873 he was appointed principal of the home.
In the same year he was was elected as a member of the London School Board, representing Hackney.
Wikipedia page [1] refers, and more information here [2].
A biography by William Bradfield here [3]
Ad blocker interference detected!
Wikia is a free-to-use site that makes money from advertising. We have a modified experience for viewers using ad blockers

Wikia is not accessible if you've made further modifications. Remove the custom ad blocker rule(s) and the page will load as expected.