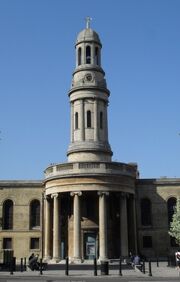 St Mary's, Bryanston Square
is a Church of England church in central London. The church was designed by
Robert Smirke
, and was built in 1823-24.
The church was one of the "Commissioner's" or "Waterloo" churches built in areas of London with a rapidly rising population. The new parish was formed from part of the ancient parish of St Marylebone, and was sometimes called St Marylebone, St Mary.
The church was built in the Greek Revival style of architecture, ornamented by a semi-circular stone portico of six Ionic columns on the south facade, surmounted by a pepperpot tower. In 1874/75 the interior was redesigned by Sir Arthur Blomfield.
The church was again refurbished and reordered in 2000-02.
The Wikipedia page is [1].
References
Edit
Ad blocker interference detected!
Wikia is a free-to-use site that makes money from advertising. We have a modified experience for viewers using ad blockers

Wikia is not accessible if you've made further modifications. Remove the custom ad blocker rule(s) and the page will load as expected.