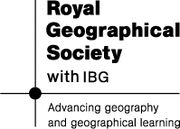 Royal Geographical Society (with the Institute of British Geographers), 1 Kensington Gore,London, SW7 2AR.
The Royal Geographical Society (with the Institute of British Geographers) is the UK's learned society and professional body for geography, founded in 1830. We advance geography and support its practitioners in the UK and across the world.
The Society has never been more active and open than it is today. As a charity we serve an exceptionally wide range of public and professional audiences and our work reaches millions of people each year. We are directed by our strategic objectives, our current strategic plan runs from 2012 to 2016.
Through our activities we promote, support and enhance geographical research, education, fieldwork and expeditions, public engagement, knowledge transfer to policy, and the professional accreditation of geographers, as well as holding one of world's pre-eminent geographical collections that spans over 500 years of discovery and geographical science.
People are at the heart of the Society. Building on our illustrious history, we are supported by more than 15,000 Fellows and members in over a 100 countries, and by many others, through their expertise, networks, donations and subscriptions.
Joining the Society is easy. Membership is open to anyone with an interest and enthusiasm for the world's peoples, places and environments. Fellowship is open to geography graduates and those actively contributing to geography. We welcome new members and Fellows with a wide range of backgrounds and interests.
Thanks to the generous support of our funders and members the Society is an innovative and forward looking organisation that continues to inspire an understanding of our changing world and the big issues it faces in the future.
Ad blocker interference detected!
Wikia is a free-to-use site that makes money from advertising. We have a modified experience for viewers using ad blockers

Wikia is not accessible if you've made further modifications. Remove the custom ad blocker rule(s) and the page will load as expected.