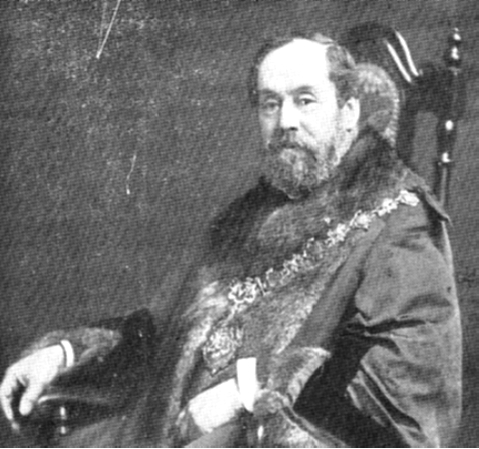 Robert Jackson
(c.1842-13 February 1922) was a Scottish-born school master and politician active in the
Lewisham
area.
Born in Ecclefechan, Dumfriesshire. Following study at St Mark's College, Chelsea, he worked as a teacher in Lancashire (he married Ellen Hesmondhalgh Smithies in Burnley in 1866) and Cheshire before becoming resident in Forest Hill by the late 1870s with a post in a London School Board school. By 1911 he was retired from teaching and was a company secretary.
When the Metropolitan Borough of Lewisham was created in 1900, Jackson was elected to the new borough council as a Moderate Party councillor for Forest Hill ward. Mayor of Lewisham 1913-15. He was largely responsible for the raising of the 11th (Lewisham) Battalion, Queen's Own Royal West Kent Regiment in World War One.
During the war he was appointed to fill a casual vacancy in the representation of Lewisham on the London County Council in April 1916. When council elections resumed following the war in 1919, he was elected as a Municipal Reform Party councillor for the new seat of Lewisham West, holding the seat until his death.
Mention here [1]
Ad blocker interference detected!
Wikia is a free-to-use site that makes money from advertising. We have a modified experience for viewers using ad blockers

Wikia is not accessible if you've made further modifications. Remove the custom ad blocker rule(s) and the page will load as expected.