BRIDGE
Richmond Railway Bridge
Carries
National Rail
Maintained by
South West Trains
Design
Total Length
Clearance Below
Opening Date
Richmond Railway Bridge in Richmond, south-west London crosses the River Thames in a north-east to south-west alignment and is listed at Grade II. It carries National Rail services operated by South West Trains from London Waterloo to Reading, and lies between Richmond and St. Margarets stations.
After the railway came to Richmond station in 1846, the line was extended to Windsor and the Joseph Locke designed cast iron bridge was opened in 1848. Due to concerns over its structural integrity, the bridge was rebuilt reusing the existing piers and abutments at the beginning of the 20th century to a design by the London & South Western Railway's chief engineer, J W Jacomb-Hood. It reopened again in 1908. The new bridge was very similar in appearance to the old one.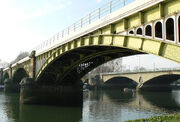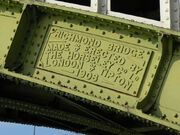 The bridge was declared a Grade II listed structure in 2008, providing protection to preserve its special character from unsympathetic development.
Ad blocker interference detected!
Wikia is a free-to-use site that makes money from advertising. We have a modified experience for viewers using ad blockers

Wikia is not accessible if you've made further modifications. Remove the custom ad blocker rule(s) and the page will load as expected.