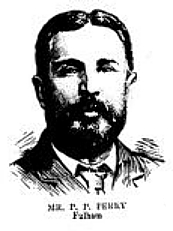 Philip Pethick Perry
(c.1837 - 5 September 1903) was a surveyor and local politician.
A member of the Fulham Vestry, from 1887 he was their representative on the Metropolitan Board of Works. When the Metropolitan board was abolished in 1889 and replaced by the London County Council, Perry stood as an independent candidate for the Fulham Electoral Division, but failed to be elected.
He died, aged 66, while visiting Harrogate in Yorkshire.
Mention here [1].
Ad blocker interference detected!
Wikia is a free-to-use site that makes money from advertising. We have a modified experience for viewers using ad blockers

Wikia is not accessible if you've made further modifications. Remove the custom ad blocker rule(s) and the page will load as expected.