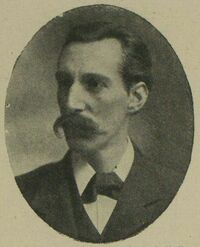 Llewellyn James "Lewen" Sharp (November 1862 - 23 October 1914) was an architect and local politician.
Born in Denmark Hill, he was the son of James Sharp, a merchant, and his wife Jane. He was a younger brother of Cecil Sharp the folklorist. He sat as a Progressive Party member of the London County Council, representing Lambeth, Brixton 1901-07 and as an alderman 1907-10. He stood unsuccessfully fr the election to the county council at Hampstead in 1895.
He was the county council's representative on the Royal Institute of British Architects Architectural and Education Boards.
Responsible for the bell on the London fire engine [1].
Ad blocker interference detected!
Wikia is a free-to-use site that makes money from advertising. We have a modified experience for viewers using ad blockers

Wikia is not accessible if you've made further modifications. Remove the custom ad blocker rule(s) and the page will load as expected.