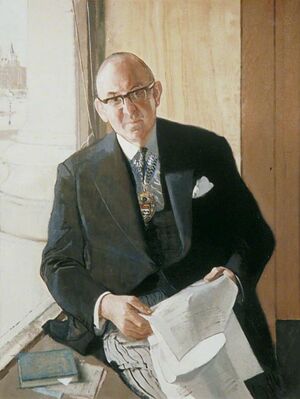 (Alfred) Leslie Freeman
(12 October 1907-28 October 1984) was a solicitor and
Conservative Party
politician.
With a legal practice Ruislip, Middlesex, Freeman was elected as a councillor to both Ruislip-Northwood Urban District Council and Middlesex County Council.
With the imminent abolition of both urban district and county council in 1965, Freeman stood as a candidate for the new Greater London Council (GLC) in the Hillingdon area in 1964. He did not win a seat but did become an alderman on the GLC, holding the post until aldermen were abolished in 1977.
Awarded the MBE. In 1958 New Year's Honours was made OBE for "political and public services in Middlesex".