Born 1842, died 3 September 1889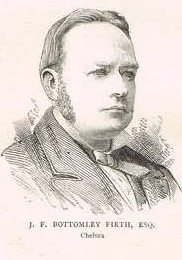 Born near Huddersfield, married 1873 Elizabeth, daughter of Mr George Tatham Mayor of Leeds 1880-3: assumed the name of Firth by Royal licence same year. Died of sunstroke in Switzerland.
Deputy Chairman of the London County Council.

Obit in The Times 5 September 1889, p4. MP for Dundee. 1866 called to the bar Middle Temple.
Sat on School Board for London for Chelsea 1876-9, and long active in movement for London municipal reform on which he wrote a book. President of the Municipal Reform League.
1880-5 MP for Chelsea; 1885 1888-9 Gladstonian member for Dundee.
Wikipedia article here [1].
2 October 1889 Letter The Times from W Blake Odgers – Deputy Chairman LCC or Clerk of Council: office of Deputy Chairman LCC created specially for Mr Firth, due to his knowledge of municipal matters, and his work in other municipalities carried out by Clerk of Council.
Ad blocker interference detected!
Wikia is a free-to-use site that makes money from advertising. We have a modified experience for viewers using ad blockers

Wikia is not accessible if you've made further modifications. Remove the custom ad blocker rule(s) and the page will load as expected.