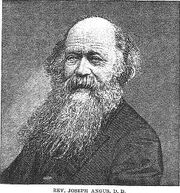 Rev Dr
Joseph Angus
(16 January 1816 - 28 August 1902) was a Baptist minister and educationist.
Born in Northumberland, he was educated in Edinburgh University and King's College London. In 1838 he moved to London to be minister at New Park Street Chapel, Southwark. From 1840 he was secretary of the Baptist Missionary Society. He also took up the post of secretary of Stepney College, established to provide education for Baptists and other Non-Conformists who were at the time barred from attending university. In 1849 he became principal of the college, and in 1856 moved the college to Regents Park, at the same time gaining affiliation to the University of London.[1] He held the post of President of Regents Park College until 1893.
From 1859 to 1869 Angus was examiner in English to University of London, and in 1865 to the Civil Service Commissioners. From 1870-1880 he was part of the committee that produced the Revised Version of the New Testament.
His interest in education led to him being elected to the London School Board on its creation in 1870 as one of the representatives of Marylebone. In all he spent nearly 12 years on the board: from 1870-1873, 1876-1882 and 1894-1897. He advocated non-denominational Bible reading in schools, and found an ally on the board in William Henry Smith MP. He died at his residence, "Ellerdale", Hampstead in August 1902 aged 86 and was buried in Norwood Cemetery.
His collection of books by Baptist authors formed the basis of the Angus Library now housed at Regent's Park College, and is now the leading collection of Baptist history and heritage worldwide.[2]
Wikipedia page [1].
References
Edit
↑

The college subsequently became Regent's Park College, Oxford in 1928.

↑ Angus Library. Regents Park College, Oxford.
Ad blocker interference detected!
Wikia is a free-to-use site that makes money from advertising. We have a modified experience for viewers using ad blockers

Wikia is not accessible if you've made further modifications. Remove the custom ad blocker rule(s) and the page will load as expected.