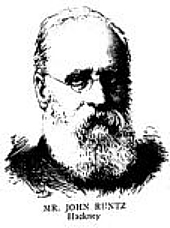 John Runtz
(20 December 1818 - 19 December 1891) was a local politician in the
Hackney
and
Stoke Newington
area.
He was a long term member of the Stoke Newington Vestry and the Hackney District Board of Works. From 1868 he was the district board's representative on the Metropolitan Board of Works, and when the Metropolitan Board was abolished in 1889 he stood for election for the successor London County Council at Hackney North, but was not elected.
He was also Stoke Newington Library Commissioner, chairman of the Lee Conservancy Board, a director of the New River Company.
Runtz's biggest contribution to London was his work to create public open spaces. Along with Joseph Beck, a member of the Common Council of the City of London, he was largely responsible for the opening of Clissold Park and Hackney Downs. The two lakes in Clissold Park were named Runtzmere Lake and Beckmere Lake in honour of the two proponents of the purchase of the park.
He died at his home, Linton Lodge, Lordship Road, aged 72, and was buried at New Southgate Cemetery.
His son, Sir John Johnson Runtz (1842-1922), was the first Mayor of the Metropolitan Borough of Stoke Newington.
Ad blocker interference detected!
Wikia is a free-to-use site that makes money from advertising. We have a modified experience for viewers using ad blockers

Wikia is not accessible if you've made further modifications. Remove the custom ad blocker rule(s) and the page will load as expected.