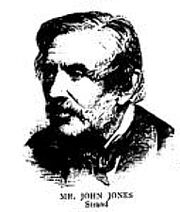 John Jones
(25 May 1815 - 6 September 1909) was a watchmaker and local politician.
Born in Wales, Jones was educated at Totteridge School. He established a watchmakers business at 338, The Strand, London. In 1858 he was one of the founders of the British Horological Institute.
He joined the Worshipful Company of Turners, and was Master of the company in 1852 and 1861. He was also a shareholder in the Bank of England a proprietor of the East India Company.
He was a vestryman and member of the Strand District Board of Works, and was a member of the Metropolitan Board of Works from 1879-89.
He was a fellow of both the Royal Geographical Society and of the Society of Antiquaries.
He died, aged 94, at his home at the Manor House, Send, Surrey, and was buried at Brookwood Cemetery.
References
Edit
Ad blocker interference detected!
Wikia is a free-to-use site that makes money from advertising. We have a modified experience for viewers using ad blockers

Wikia is not accessible if you've made further modifications. Remove the custom ad blocker rule(s) and the page will load as expected.