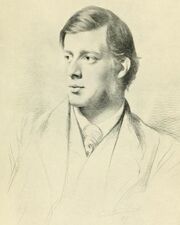 John Gerald Ritchie
(26 July 1853 – 16 May 1921) was a colonial administrator who was briefly a member of the
London School Board
.
[1]
Born in Calcutta, he was the son of William Ritchie, Advocate General of Bengal. At a young age he moved to Paris to be raised by his aunt. In 1862 he travelled to England for the first time, entering a private boarding school in Warwickshire, and then Winchester School from 1866-72.
In 1873 he passed the entrance examinations for the Indian Civil Service.[2] He took a two-year course in law, political economy, Indian history and three Indian languages at Trinity College, Cambridge.
In 1875 he sailed to India, In 1882 he married Amy Thackeray, daughter of Colonel Sir Edward Talbot Thackeray in Roorkee, nothern India.He remained in India until 1896, rising to be head of the Calcutta Municipality.
On 23 January 1902 he was co-opted onto the London School Board to fill a casual vacancy in the representation of Westminster. The school board was abolished two years later.
He died at his home in Chelsea in 1921 after a long illness and was buried at Kensal Green Cemetery.
References
Edit
Ad blocker interference detected!
Wikia is a free-to-use site that makes money from advertising. We have a modified experience for viewers using ad blockers

Wikia is not accessible if you've made further modifications. Remove the custom ad blocker rule(s) and the page will load as expected.