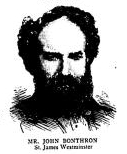 John Bonthron
(c.1820 - 22 October 1895) was a Scottish born baker and local politician.
Born in Buckhaven, Fifeshire, in 1843 he came to London as a journeyman baker. In 1851 he went into business on his own account, establishing Bonthron's, a bakery and restaurant business at 106 Regent Street.
He was an active member of the Liberal Party, signing the nomination papers of the party's candidate in Westminster at the 1874 general election. In 1875 he was chairman of the Westminster Board of Guardians.
He was a member of the Vestry of Westminster St James from the 1860s and was their representative on the Metropolitan Board of Works from 1883 until its abolition in 1889.
The Metropolitan Board was replaced by the London County Council, and Bonthron stood as an independent candidate for the Strand Electoral Division at the first elections to the new body, but failed to be elected.
He died at his home, "Pitlochry", Putney Hill, aged 75.
Ad blocker interference detected!
Wikia is a free-to-use site that makes money from advertising. We have a modified experience for viewers using ad blockers

Wikia is not accessible if you've made further modifications. Remove the custom ad blocker rule(s) and the page will load as expected.