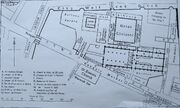 The Franciscan Friary of
Greyfriars
stood in the north west of the
City of London
. It was established in 1225 and dissolved in 1538.
The site of the monastery was given to the city corporation in 1546, and in the following year the church of the friary became the parish church of a new parish of Christchurch, Newgate Street, also known Christchurch, Greyfriars.[1] The church was destroyed in the Great Fire of London, and replaced by one designed by Sir Christopher Wren. The Wren church was itself destroyed in the Second World War.
The spire and some of the walls of the Wren church remain, and the site became a public garden in the 1960s.[2] The site of the monastery is marked by a blue plaque.[3]
The Wikipedia page is [1].
References
Edit
Ad blocker interference detected!
Wikia is a free-to-use site that makes money from advertising. We have a modified experience for viewers using ad blockers

Wikia is not accessible if you've made further modifications. Remove the custom ad blocker rule(s) and the page will load as expected.