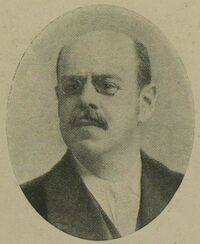 George Shrubsall (1857 - 15 February 1935) was a director and politician.
Born in Newington, he was the son of a cook. He moved to Tulse Hill in Lambeth. He joined the staff of the Pearl Assurance Company in 1870 as a junior clerk. He became chief clerk in 1882, was given a seat on the board of directors in 1892 and rose to be the president of the company after sixty years of continuous service.
Active in the Wesleyan Methodist Church, in 1906 he was made a Justice of the Peace for the County of London.
He sat as a Progressive Party member of the London County Council representing Lambeth, Norwood from 1901-1907. At the General Election of December 1910 he contested the Norwood parliamentary seat for the Liberal Party without success.
By 1911 he had moved to Bromley and retired to Reigate, Surrey, where he died.
Ad blocker interference detected!
Wikia is a free-to-use site that makes money from advertising. We have a modified experience for viewers using ad blockers

Wikia is not accessible if you've made further modifications. Remove the custom ad blocker rule(s) and the page will load as expected.