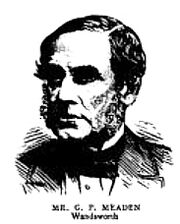 George Pitney Meaden
(c.1814 - 29 January 1890) was a printer and local politician in the
Clapham
area.
In 1867 Meaden was chosen as one of the representatives of the Wandsworth District Board on the Metropolitan Board of Works, serving until the body's abolition in 1889.
He died at his home in Clapham in 1890 aged 76.
Ad blocker interference detected!
Wikia is a free-to-use site that makes money from advertising. We have a modified experience for viewers using ad blockers

Wikia is not accessible if you've made further modifications. Remove the custom ad blocker rule(s) and the page will load as expected.