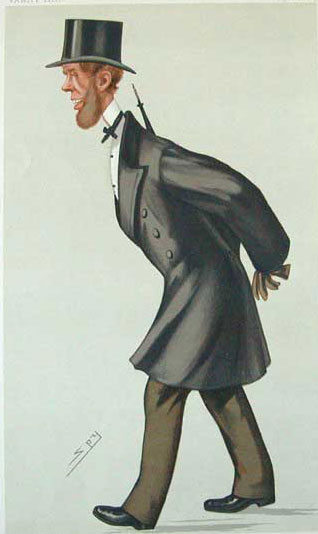 The Hon.
George Charles Brodrick
(5 May 1831 – 8 November 1903) was an academic, barrister, author and journalist.
Born in Norfolk, he was the second son of the Reverend William Brodrick, rector of Castle Rising. (His father was subsequently Canon of Wells and Dean of Exeter, and inherited the title of Viscount Midleton.)
Brodrick was educated privately and at Eton College. He entered Balliol College, Oxford in 1850 and maintained a link with the university for the rest of his life. He was president of the Oxford Union and was elected a fellow of Merton College in 1855.
He moved to London in 1856 where he entered Lincoln's Inn as a law astudent, and was called to the bar in June 1859. He only practised briefly, however, taking up journalism in 1860.
For thirteen years he wrote leading articles for The Times, a total of about 1,600 pieces.
He stood for parliament as a Liberal Party candidate in 1868, 1874 and 1880, but without success.
In October 1877 he was co-opted onto the London School Board to fill a casual vacancy in the representation of Westminster. He held the seat until 1879.
In 1881 he was elected warden of Merton College, Oxford, an office he held until his death. He died in his lodgings at the college aged 72.
References
Edit
"Death Of Mr. George Brodrick". The Times: p. 6. 9 November 1903.

 
Ad blocker interference detected!
Wikia is a free-to-use site that makes money from advertising. We have a modified experience for viewers using ad blockers

Wikia is not accessible if you've made further modifications. Remove the custom ad blocker rule(s) and the page will load as expected.