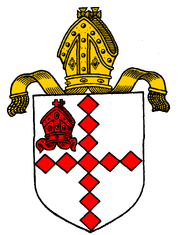 The Diocese of Southwark is a Church of England diocese which includes most of south London and part of Surrey.
The diocese was formed in 1905. Until 1877 the area had formed part of the Diocese of Winchester. From 1877-1905 it formed part of the Diocese of Rochester.
In 1984 the Archdeaconry of Croydon, which had formed a "peculiar" and detached part of the Arch Diocese of Canterbury, was transferred to Southwark Diocese.
The diocese is presided over by the Bishop of Southwark, whose seat is at Southwark Cathedral (the former Collegiate Church of St Saviour and St Mary Overie).
Ad blocker interference detected!
Wikia is a free-to-use site that makes money from advertising. We have a modified experience for viewers using ad blockers

Wikia is not accessible if you've made further modifications. Remove the custom ad blocker rule(s) and the page will load as expected.