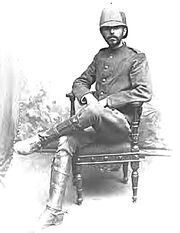 Cosmo Rose-Innes
(1864-10 June 1903) was a barrister and local politician.
The son of Scottish solicitor George Alfred Rose-Innes and Caroline née Claybrook of Bloomsbury, he was born in St Clement Danes. He was called to the bar at the Inner Temple in 1888.
He was elected as a Moderate Party member of the London County Council at a byelection on 29 June 1895 to represent Bethnal Green North East, gaining the seat from the Progressive Party by the narrow margin of 92 votes. He did not defend the seat at the next county council election in March 1898.
During the Second Anglo-Boer War he joined Paget's Horse, a volunteer cavalry unit that formed four companies of the Imperial Yeomanry. In 1901 he wrote an account of his service: With Paget's Horse to the Front.
Ad blocker interference detected!
Wikia is a free-to-use site that makes money from advertising. We have a modified experience for viewers using ad blockers

Wikia is not accessible if you've made further modifications. Remove the custom ad blocker rule(s) and the page will load as expected.