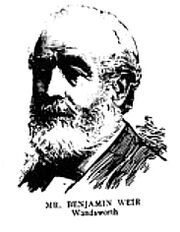 Benjamin Weir
(1809 - 24 February 1902) was a local politician in the
Streatham
area.
Born in Southwark, Weir was a member of the Streatham Vestry from 1872, and was the representative of the Wandsworth District Board on the Metropolitan Board of Works from 1885. He retired from local government when the Metropolitan Board was abolished and replaced by the London County Council in 1889.[1]
He was resident at "The Hawthorns", Grove Road, Clapham Park.
He died in February 1902, aged 93, and was buried at Nunhead Cemetery.[2]
In his will he left £100,000 to found a hospital for the benefit of the inhabitants of Streatham parish. The hospital, which was built on the site of his house and on adjoining land, was the Weir Hospital, and opened in 1911. It was closed in 1977, and there is now a Benjamin Weir Ward at St George's Hospital.[3] The Benjamin Weir Trust continues to exist as a charity.[4]
Grove Road was renamed Weir Road in 1936.
References
Edit
Ad blocker interference detected!
Wikia is a free-to-use site that makes money from advertising. We have a modified experience for viewers using ad blockers

Wikia is not accessible if you've made further modifications. Remove the custom ad blocker rule(s) and the page will load as expected.