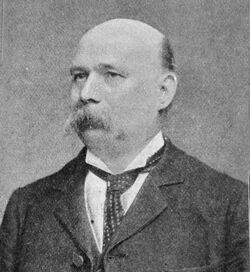 Ben Cooper (1854 - January 1920) was a trade unionist and politician.
Apprenticed to the tobacco trade in Norwich, he rose to become the General Secretary of the Cigar Makers' Mutual Association. Although his union was small, he held a position on the Parliamentary Committee of the Trades Union Congress.
He was a long-term member of the London County Council, sitting as a Labour Progressive Party councillor representing Tower Hamlets, Bow and Bromley from 1892-1907 and as an alderman from 1907-10.
In a group photograph here [1].
References
Edit
"News in Brief". The Times: p. 7. 17 January 1920.

 
Ad blocker interference detected!
Wikia is a free-to-use site that makes money from advertising. We have a modified experience for viewers using ad blockers

Wikia is not accessible if you've made further modifications. Remove the custom ad blocker rule(s) and the page will load as expected.