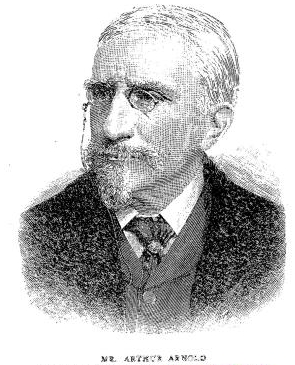 Sir (Robert) Arthur Arnold (28 May 1833 – 20 May 1902) was a Liberal Party politician and author.[1][2]
Educated privately and trained as a surveyor and land agent, in 1861 he was involved in the surveying operations prior to the construction of the Thames Embankment.[3]
In 1867 he married Amelia Elizabeth Hyde of County Cork. They had no children. His wife was a campaigner for women's suffrage and a prominent public figure in her own right.[2]
From 1880-85 he was member of parliament for Salford, Lancashire.
On the creation of the London County Council in 1889, Arnold was elected as a county alderman, and was chairman of the council from 1895 - 1897.[1] He was knighted in 1895. He was also a Deputy Lieutenant and Justice of the Peace for the County of London.[1]
He died at his home in Kensington in May 1902, aged 68.
Wikipedia page [1] and Wikisource page [https://en.wikisource.org/wiki/Arnold,_Arthur_(DNB12).
An article on Arnold Day [2]
Opening of Telegraph Hill [3]
References
Edit
↑ 2.0 2.1 G. S. Woods, rev. Jonathan Spain (2004). Arnold, Sir (Robert) Arthur (1833–1902). Oxford Dictionary of National Biography. Oxford University Press. Retrieved on 2008-10-21.
↑ John Sutherland, The Stanford Companion to Victorian Fiction, Stanford University Press, 1989