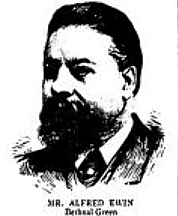 Alfred Ewin
(c.1834 - 30 November 1916) was a builder and developer.
Ewin, who was a member of Bethnal Green Vestry, represented that body on the Metropolitan Board of Works from 1879-89. Following the abolition of the Metropolitan Board in 1889 he was a candidate at the first elections to the successor London County Council, failing to win a seat at Bethnal Green South West.
Ewin lived at Norlington House, Leytonstone until he retired to Southend-on-Sea, Essex, where he died aged 83.
Mention here [1]
Ad blocker interference detected!
Wikia is a free-to-use site that makes money from advertising. We have a modified experience for viewers using ad blockers

Wikia is not accessible if you've made further modifications. Remove the custom ad blocker rule(s) and the page will load as expected.